Nix Ultra® All-in-One Shampoo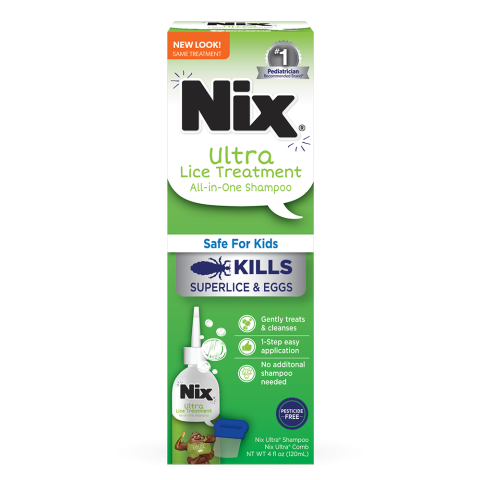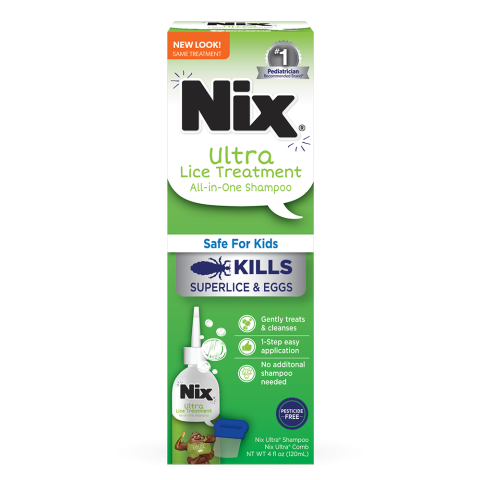 Nix Ultra® All-in-One Shampoo
No Additional Shampoo Needed
From the #1 Pediatrician & Pharmacist recommended brand comes Nix Ultra® All-in-One Shampoo, designed to treat head lice and eggs, including hard-to-kill superlice. It even cleans hair in one easy step, no additional shampoo necessary!
Step 1 –  Apply

Apply Nix Ultra® shampoo to dry hair and completely saturate the hair and scalp

Wait 10 minutes


Insider Tip - You can use a washcloth or towel to prevent Nix from getting in the eyes

Step 2 – Wash

Thoroughly wash hair using warm water

No additional shampoo needed

Step 3 – Comb

Comb hair with the included Nix® Lice Removal Comb to remove nits and lice

Be sure to wipe lice and nits off the comb during use and discard into a sealable plastic bag

Watch How to Use Nix Ultra® All-in-One Shampoo

Fragrance, laureth-4, mineral oil, MIPA laureth sulfate, propylene glycol

Indications for Use

Nix Ultra® All-in-One Shampoo is intended to kill and remove head lice and their eggs from adults and children one year of age and older.

Contraindications:

Not for use by people with sensitivity to mineral oil.

Intended for head (not pubic lice).

Not for children under 12 months

Precautions:

Care should be taken to avoid contact with the eyes. Protect eyes with a washcloth or towel during application.

Do not use this product if the scalp is already very irritated or injured

Do not use this product under occlusion, e.g., by covering up the hair with a cap or wrapped foil

Do not use this product for longer than directed (10 minutes)

Warnings:

Keep out of the reach of children.

Stop use if rash or irritation occurs

Avoid contact with eyes and mucous membranes (mouth and nose). This product may cause severe eye irritation. In case of eye contact, immediately rinse with plenty of water.

For external use only. Do not swallow. In case of accidental ingestion contact a doctor or Poison Control Center (1-800-222-1222) immediately.

Keep treated hair away from fire, flame or other hot objects. Do not smoke during use or treatment.

If spilled, clean up immediately. Nix Ultra® shampoo can be slippery.