When it comes to treating head lice, treatment should begin as soon as symptoms of lice are noticed or when live lice and nits are seen on your child's body or clothing. You want a treatment that kills not only lice but also their eggs (nits). But with a number of different lice treatments to choose from, how do you know what's best for your child?
The medicine in Nix® is recognized as the most effective over-the-counter treatment for killing lice and their eggs according to the Academy of Pediatrics. Nix® is recommended by pharmacists…trusted by moms…and hated by lice. Here are some other things to know about Nix®:
Nix® has been the #1 pharmacist-recommended brand for more than 20 years
The Academy of Pediatrics recommends the medicine in Nix® as the first line of treatment for lice
Nix® has a maximum-strength formula
Nix® kills lice and their eggs
Nix® protects against lice reinfestation for up to 14 days
Nix® is safe for use on children as young as 2 months old
You may have also heard that Nix® has a residual effect. This means that some residual or lingering activity of Nix® remains on the hair for up to two weeks, even with regular shampooing. This residual activity allows Nix® to kill lice — including baby lice as they hatch — and protect against lice reinfestation up to 14 days. Products with longer residual effects tend to be more effective in killing newly hatched lice eggs.1 Other lice treatments that do not have the residual effect that Nix® does often require more than one application to ensure that newly hatched lice eggs are killed. Nix®, on the other hand, usually kills lice and their eggs with a single application.
Nix® vs Rid®
When comparing Nix® Creme Rinse with Rid® lice treatment, it's important to know the facts. Nearly every way you look at it, Nix® comes out ahead: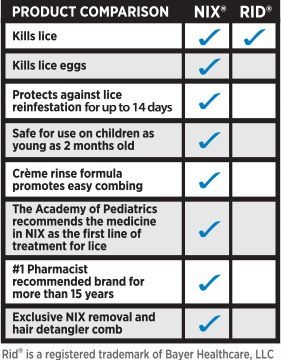 The Nix® Complete Lice Elimination Kit provides all the lice treatment products you need — in one complete and convenient kit! With Nix®, you can eliminate lice in 3 easy steps: 1) Treat; 2) Remove and 3) Control.
What Our Customers are Saying:
Hello. I just wanted to say THANK YOU. My 15-month-old daughter and I somehow contracted lice. I was worried about my daughter since everywhere I read stated that no lice treatments were to be used on babies less than 2 years old until I found your product. I used it and it instantly worked on the application. She was in a very worse condition, constantly scratching and as I was combing her hair with your comb there were so many dead lice and so many nits that were removed from her head and she was completely relieved. I will wait the 14 days and re-treat her for any nits left behind but I have no doubt our problem is over.
THANK YOU.
- Maria, M
Reference: 
1. Mazurek CM, Lee NP. How to manage head lice. West J Med. 2000 May; 172(5): 342–345.​ 
Where to Buy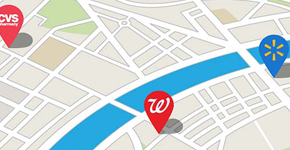 Why Nix?
The Academy of Pediatrics recommends the medicine in Nix® Cream Rinse as the first line of treatment for lice.