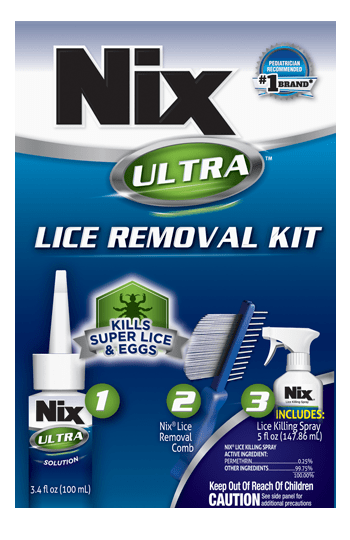 Nix Ultra® Lice Removal Kit
Nix Ultra® Super Lice Solution is now available in a better-than-ever kit for treating heads and homes in three easy steps:
Apply Nix Ultra® solution
Remove lice and nits with Nix Ultra® Lice Removal Comb
Control with Nix® Lice Killing Spray for the home
HOW TO USE
Important: Read warnings before use.
Step 1 – Apply
Spread Nix Ultra® solution on dry hair, completely saturating hair and scalp. Ensure coverage behind ears and on nape of neck. Leave solution in hair for 10 minutes.
Nix Ultra® solution is safe and non-toxic but care should be taken to avoid contact with eyes.  Protect eyes with wash cloth or towel.
Wash hair thoroughly with regular shampoo. Do not use conditioner or shampoo that contains conditioner. Nix Ultra® solution conditions hair for easy combing with the Nix® Lice Removal Comb.  Towel dry hair.
Step 2 – Remove
Use the Nix® Lice Removal Comb to remove nits and lice.
Part hair into four sections. Comb one section at a time. Start at top of head. Lift a 1-2 inch wide section of hair. Place teeth of comb as close to scalp as possible and comb with firm, even motion away from scalp to the end of the hair. Use clips to pin back each section of combed hair.
Clean comb during use by wiping lice and nits onto clean tissue or dry paper towel. Discard tissue or paper towel into sealable plastic bag. After combing, recheck the entire head for lice and nits.  Seal and discard plastic bag containing nits and lice.
Check hair after 7 days.  If lice or nits are present, repeat steps 1-2. Safe, non-toxic when used as directed
Step 3
Clean Home and Personal Items
Use Nix® Lice Killing Spray for household items that cannot be laundered or dry cleaned. Nix® Lice Killing Spray kills lice and bedbugs. NOT FOR USE ON HUMANS. CAUTION: Keep out of reach of children. See product label for complete information.  
All personal headgear (hats, hair ribbons, etc.); scarves; coats; towels; and bed linens should be washed in hot water (above 130° F), then dried in a dryer using the hottest cycle for at least 20 minutes.
Personal combs, including nit combs, and brushes should be soaked in hot water (above 130° F) for at least 10 minutes.
Articles such as clothing, blankets, pillows or stuffed animals that cannot be washed should be dry-cleaned or sealed tightly in a plastic bag for a period of at least 2 weeks. Items should be taken out of the plastic bag outdoors and shaken before use.
Vacuum all carpets, mattresses, upholstered furniture and car seats that may have come in contact with lice. Dispose of vacuum bags. 
INGREDIENTS
Nix Ultra® Solution:  Dimethicone, C12-20 isoparrafin
Nix® Lice Control Spray
Active ingredient:
PERMETHRIN     .......................................................0.25%
Other ingredients: ........................... 99.75%
100.00%
WARNINGS
Nix Ultra® Solution
Not for use by people with hypersensitivity to mineral oils or silicone.
Stop use if signs of a rash or irritation occur.
Avoid contact with eyes, mouth and nose.  In case of contact, rinse thoroughly with water.
Not for use on children under 2 years of age.
For external use only.  Do not swallow.
Keep out of the reach of children. If swallowed, seek medical help or contact a Poison Control Center (1-800-222-1222) immediately.
Keep hair away from fire or flame. Do not smoke during use.
If spilled, clean up immediately. Product can be slippery.
Nix® Lice Killing Spray
Keep Out of Reach of Children
READ ENTIRE LABEL BEFORE EACH USE.
PRECAUTIONARY STATEMENTS
Hazards to Humans and Domestic Animals
CAUTION
User Safety Recommendations: Wear long-sleeved shirt and long pants, socks and shoes, User should wash hands before eating, drinking, chewing gum, using tobacco, or using the toilet. User should remove clothing immediately if pesticide gets inside. Then wash thoroughly and put on clean clothing.
SHAKE BOTTLE WELL BEFORE USING
DIRECTIONS FOR USE
It is a violation of Federal law to use this product in a manner inconsistent with its labeling.
Use Restrictions: For use as a surface spray, do not allow adults, children or pets to enter until sprays have dried. Do not apply as a broadcast treatment to indoor sufaces at residential sites, including nurseries, day care centers, schools, hospitals and nursing homes.
FOR USE IN NON-FOOD AREAS INDOORS, PREMISES OF HOMES, AND STORAGE BUILDINGS, CAMPERS, MOBILE HOMES, AUTOMOBILES, TRUCKS AND BOATS.
INDOOR APPLICATIONS:
In the home, cover all food handling surfaces, cover or remove all food and cooking utensils or wash thoroughly after treatment. Application is prohibited directly into sewers or drains, or to any area like a gutter where drainage to sewers, storm drains, water bodies, or aquatic habitat can occur. Do not allow the product to enter any drain during or after application. Do not enter or allow others to enter until sprays have dried.
What are lice?
Head lice are tiny insects that can be found on various parts of the body, including the head, eyebrows, and eyelashes. The most common symptom with head lice is itching.
Where to Buy