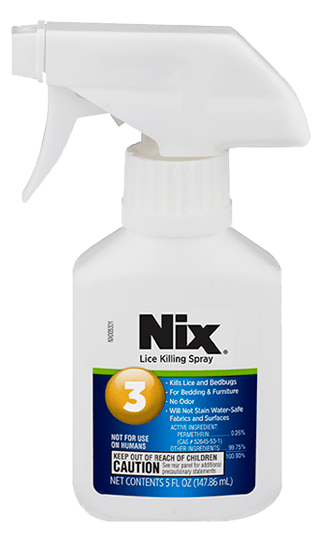 Nix® Lice Killing Spray
Nix® Lice Killing Spray kills lice and bedbugs. Easy to use – just spray affected areas. Effective for up to four weeks. No odor – Non-staining – No sticky residue.
*NOT FOR USE ON HUMANS
INGREDIENTS
| ACTIVE INGREDIENT: |   |
| --- | --- |
|   | 100.00% |
| Permethrin | 0.25% |
| OTHER INGREDIENTS: | 99.75% |
WARNINGS
Keep Out of Reach of Children
READ ENTIRE LABEL BEFORE EACH USE.
PRECAUTIONARY STATEMENTS
Hazards to Humans and Domestic Animals
CAUTION
User Safety Recommendations: Wear long-sleeved shirt and long pants, socks and shoes, User should wash hands before eating, drinking, chewing gum, using tobacco, or using the toilet. User should remove clothing immediately if pesticide gets inside. Then wash thoroughly and put on clean clothing.
SHAKE BOTTLE WELL BEFORE USING
DIRECTIONS FOR USE
It is a violation of Federal law to use this product in a manner inconsistent with its labeling.
Use Restrictions: For use as a surface spray, do not allow adults, children or pets to enter until sprays have dried. Do not apply as a broadcast treatment to indoor sufaces at residential sites, including nurseries, day care centers, schools, hospitals and nursing homes.
FOR USE IN NON-FOOD AREAS INDOORS, PREMISES OF HOMES, AND STORAGE BUILDINGS, CAMPERS, MOBILE HOMES, AUTOMOBILES, TRUCKS AND BOATS.
INDOOR APPLICATIONS:
In the home, cover all food handling surfaces, cover or remove all food and cooking utensils or wash thoroughly after treatment. Application is prohibited directly into sewers or drains, or to any area like a gutter where drainage to sewers, storm drains, water bodies, or aquatic habitat can occur. Do not allow the product to enter any drain during or after application. Do not enter or allow others to enter until sprays have dried.
Surface Spraying: To kill lice and louse eggs: Treat only those garments and parts of bedding, including mattresses and furniture that cannot be either laundered or dry-cleaned. Spray in an inconspicuous area to test for possible staining or discoloration. Inspect again after drying, then proceed to spray entire area to be treated. Spray from a distance of 8 to 10 inches. Allow all treated articles to dry thoroughly before use.
To kill bedbugs: Spray mattresses lightly, particularly around tufts and seams. Take beds apart and spray in all joints. Allow all sprayed articles to dry thoroughly before use.
What are lice?
Head lice are tiny insects that can be found on various parts of the body, including the head, eyebrows, and eyelashes. The most common symptom with head lice is itching.
Where to Buy