Nix® Crème Rinse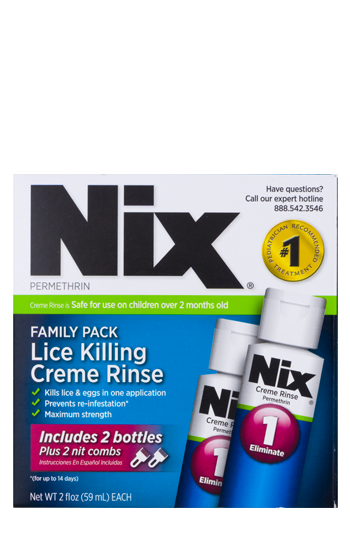 Nix® Crème Rinse
Treat & Wash Out With Regular Shampoo
From the #1 Pediatrician & Pharmacist recommended brand comes Nix® Crème Rinse, designed to kill lice and their eggs and prevent reinfestation for up to 14 days after initial application
Step 1 – Treat

Wash hair with a shampoo without conditioner. Do not use a shampoo that contains a conditioner or a conditioner alone since this may decrease the activity of Nix®. Rinse with water and towel dry hair

Apply Nix® Crème Rinse and saturate the hair and scalp, behind the ears and at the back of the neck

Keep Nix® out of the eyes. Leave in for 10 minutes to eliminate lice and their eggs (nits) and rinse with warm water


Insider Tip - You can use a washcloth or towel to prevent Nix from getting in the eyes

Step 2 – Comb

Remove lice and eggs (nits) with the included comb. Clean the comb completely as you go by wiping the nits from the comb with a tissue and throw away the tissue in a sealed plastic bag to prevent the lice from coming back
Rinse hair thoroughly with warm water after removing lice and eggs (nits)

Active Ingredients: Per Fluid Ounce: Permethrin 280 mg (1%).

Inactive Ingredients: Balsam Canada; Cetyl Alcohol; Citric Acid; FD&C Yellow No. 6; Fragrance; Hydrolyzed Animal Protein; Hydroxyethylcellulose; Polyoxyethylene 10 Cetyl Ether; Propylene Glycol; Stearalkonium Chloride; Water; Isopropyl Alcohol 5.6 g (20%); Methylparaben 56 mg (0.2%); Propylparaben 22 mg (0.08%)

For external use only
Keep out of the reach of children

Contraindications:

Do not use on children under 2 months of age
Do not use near eyes
Do not use inside the nose, ear, mouth or vagina
Do not use on lice in eyebrows or eyelashes. See your doctor.

Precautions:

Ask a doctor before use if you are allergic to ragweed. May cause breathing difficulty or an asthmatic episode.
Care should be taken to avoid contact with the eyes. Protect eyes with a washcloth or towel. If product gets into eyes, immediately flush with large amounts of water.
Do not use this product if the scalp is already very irritated or injured

Warnings:

Stop use and see a doctor if:

breathing difficulty occurs
eye irritation occurs
skin or scalp irritation continues or infection occurs

If pregnant or breast-feeding, ask a health professional before use.

Keep out of reach of children. If swallowed, get medical help or contact Poison Control Center (1-800-222-1222) right away.